SHAiRE
Improving the way freelance hairdressers work. A booking management platform in cooperation with shared salons.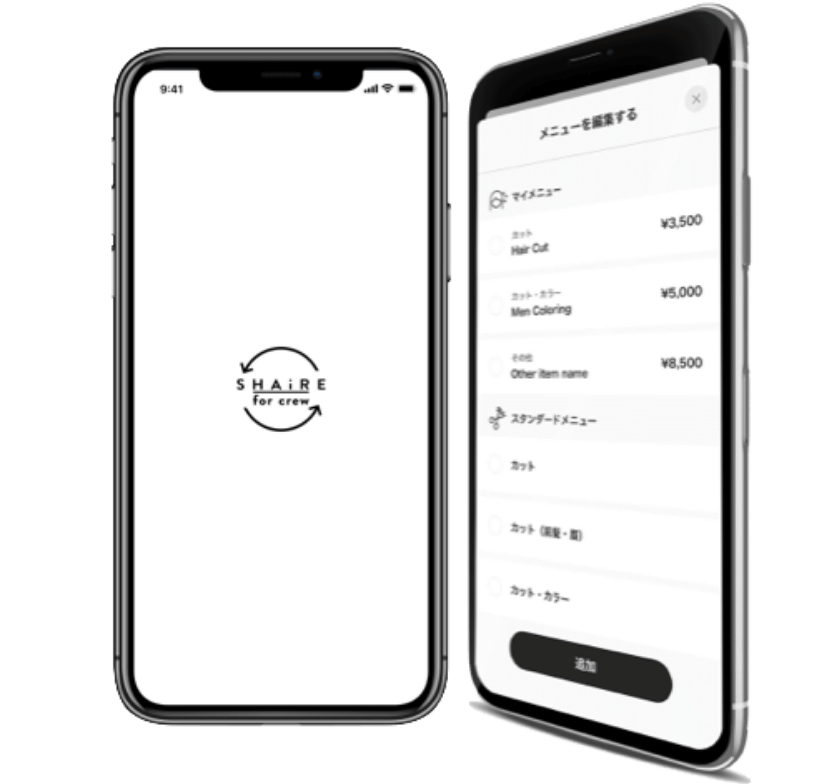 Service

"SHAiRE" is a mobile app that connects customers and freelance stylists of "GO TODAY SHAiRE SALON", the nation's largest shared salon.
Challenges

Due to the increase in freelance hairdressers, it is becoming less common to look for a hairdressing salon and more common to look for an individual hairdresser. However, attracting and managing customers present unique challenges for freelance hairdressers. There is a clear need for an environment where hairdressers can work under appropriate conditions for their abilities. In addition, the operations side of a shared salon requires a management system that differs from that of a normal salon, one that makes it easy for freelance hairdressers to do their jobs.
Solutions

"GO TODAY SHAiRE SALON" supports freelancer hairdressers' new approach to work through both the operation and systems components of shared salons. In addition to basic matching functions, such as payment, checking treatment history, and booking a stylist, the ""SHAiRE"" app plans to expand various functions such as salon management and reward point integration in future.
Partner's Voice

About "SHAiRE"
We are rolling out shared salons in about 30 locations nationwide that will enable stylists to work productively and in accordance with their lifestyles and skills. By consolidating the core business components of payment and booking into "SHAiRE", we are able to operate a smooth in-store treatment service that is cashless and without waiting times. In addition, the ability to collect and use T Points when paying contributes to increased customer satisfaction, and the upcoming coupon feature will be used as a tool to attract new customers without being beholden to existing coupon sites. With an eye towards bringing the beauty industry, with its deep roots in the analog world, into the e-commerce realm, we aim to create a world where you can become independent with just the "SHAiRE" app and a pair of scissors.

About C2C
Through digital transformation, we wanted to offer innovative value and experiences to both hairdressers and their customers. While considering developing our own app, we considered multiple companies, with our key concerns being product quality, understanding of our business, and knowledge of the beauty industry. We decided to leave it to C2C, who fulfilled all of these criteria. C2C took into account our extensive business requirements and took advantage of their various proprietary platforms to propose the shortest possible development time. Particularly with regard to feature development, where there are many business decisions to make, C2C maintained thorough communication and discussion, contributing to an increase in GMV. Going forward, we are looking to develop apps that can support stylists in fields as such as CRM and EdTech.
Support provided by C2C
Business incubation
・Market and competitive research
・Development of simplified business plan
・Implementation of PoC
Product development
・Product Production
・iOS/Android/Browser Development
・Integration with 3rd Party system
Digital marketing
・Web advertising strategy planning/operation
・SNS strategy planning/operation
・Media strategy planning/operation
Business growth
・Finance Support
・Hands-on support