Golfull
A rejuvenated golf market. A lesson matching platform to provide a new kind of lesson experience for diverse lifestyles.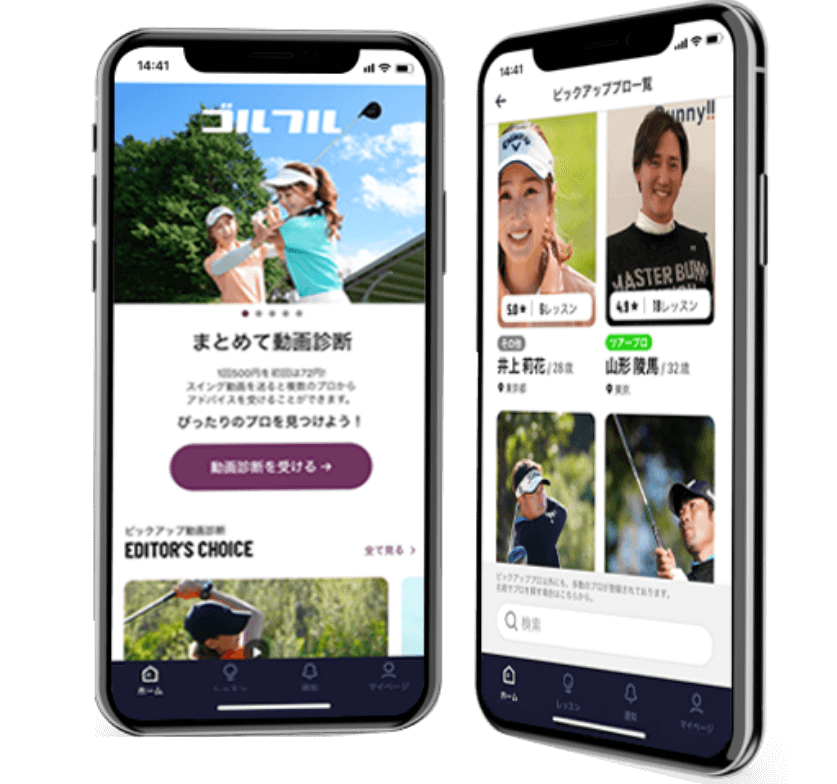 Product name

Golfull
Operating Company

Golfull Inc.

https://golfull.co.jp/
Matching Type

Golf Pro × Customer
Industry

Leisure
Service

"Golfull" is a lesson matching platform that connects golf pros with customers. In the app, users can freely get advice from their swing videos, find a pro they like, and take lessons on the driving range or golf course.
Challenges

As a sport that can be enjoyed relatively safely even during the COVID-19 pandemic, the golf-playing population has increased in recent years, particularly among young people. This increase in demand for lessons has brought about a need for simpler lesson formats not limited by traditional approaches, such as utilizing IT services and online correspondence. Widespread adoption of social media and sharing economy services has also created a demand for pro coaches to adapt to new lesson formats and disseminate their own information.
Solutions

Unlike traditional golf lessons, where customers generally choose a studio or driving range, with "Golfull", users can request a lesson with a pro at the desired location and time based on the information the pro provides in the app. The video diagnostic service allows users to get advice from multiple professionals by uploading a video of their swing. This allows pros to approach customers themselves, and the advice customers receive from pros allows them to select the pro that is right for them. Any kind of lesson can be entirely handled in the app, from booking to payment.
Partner's Voice

"Golfull" was conceived as a service that leverages the power of digital media to allow amateurs to find a pro that is perfect for them, and revolutionizes the nature of work by allowing pros to work independently. Through "Golfull", we want to contribute to the development of the golf industry. Our company was started by two people without any knowledge of app development, but by entrusting C2C with the development of the platform, and accepting their provision of human resources to assist in fundraising and various peripheral operations, we were successfully able to launch the service in a short period of time with few personnel. As they are pioneers of the matching business, we were happy to accept C2C's opinions on design of the service. Though we sometimes clashed, we understand that this is because C2C are invested in the success of "Golfull" as a business. We look forward to receiving their continued support as we expand the "Golfull" service.
Support provided by C2C
Business incubation
・Market and competitive research
・Development of simplified business plan
・Implementation of PoC
Product development
・Product Production
・iOS/Android/Browser Development
・Integration with 3rd Party system
Digital marketing
・Web advertising strategy planning/operation
・SNS strategy planning/operation
・Media strategy planning/operation
Business growth
・Finance Support
・Hands-on support