Shachomeshi
Reducing mismatches between job seekers and companies. A casual recruiting platform that directly connects presidents with job seekers.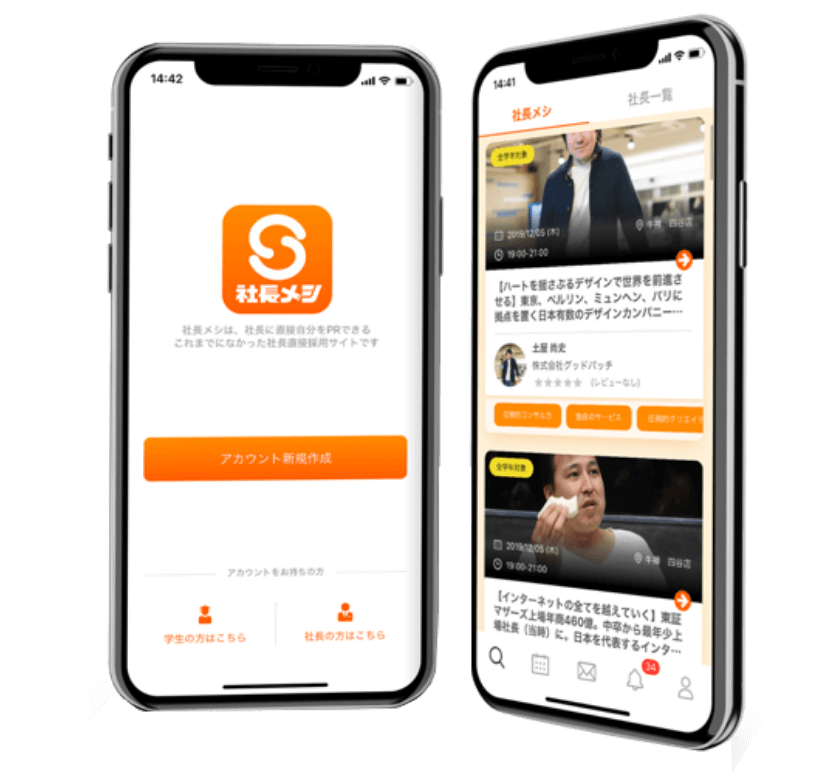 Product name

Shachomeshi
Operating Company

United Will Co., Ltd.

https://shachomeshi.com/
Matching Type

Comany President × New graduate
Industry

Human Resources
Service

"Shachomeshi" is a casual recruitment platform targeting new graduates that connects job seekers with company presidents. Users can join dinner meetings held on the service by company presidents.
Challenges

With normal recruitment, companies can only deliver standard information, and companies with unique characteristics tend to be buried among the large number of companies that exist. In addition, there are few opportunities for students to talk to personnel at the top of companies at the selection stage. As a consequence of both parties being forced to make decisions without any opportunity to truly talk and gain deep understanding, it is not uncommon for mismatches to be discovered only after someone has been hired.
Solutions

Students and presidents can make direct contact through the app. By talking to each other in a casual dining setting, both parties are not restricted to discussing conditions such as salary, and can earnestly discuss their true feelings, enabling a hiring process that is less likely to result in mismatches.
Partner's Voice

We think C2C's strengths are the following three points.
1. Speed of startup.
2. Business-oriented development
3. An efficient management system that can be operated by a small number of personnel.
With "Shachomeshi", we took on the challenge of creating an unprecedented CtoC human resource matching service. It is thanks to C2C that we have been able to grow into a service that aims to go public by 2024. Why was C2C able to grow "Shachomeshi"? There are three reasons. The first is the speed of launch. C2C already has a matching platform system, and we were able to make full use of that system to quickly release "Shachomeshi". We have established ourselves as a unique recruiting service that competitors cannot copy, and have followed up by releasing web and company employee app versions, ensuring that we are always a step ahead of our competitors. The second is business-oriented development. This is C2C's biggest strength. Our partner agreement means that it is in the interest of both parties for "Shachomeshi" to grow. The question, "How much impact will this have on our business?" is always on the agenda in development meetings. The third is the management function of the matching platform. "Shachomeshi"'s operations team consists of three people. With those three people, we handle more than 30,000 users and more than 1,000 presidents. The efficient management system provided by C2C enables productive business operations.
Support provided by C2C
Business incubation
・Market and competitive research
・Development of simplified business plan
・Implementation of PoC
Product development
・Product Production
・iOS/Android/Browser Development
・Integration with 3rd Party system
Digital marketing
・Web advertising strategy planning/operation
・SNS strategy planning/operation
・Media strategy planning/operation
Business growth
・Finance Support
・Hands-on support