KOREC
Combining desirable global talent with Japan's unique hiring style. A mismatch-reducing hiring support platform specializing in South Korean students.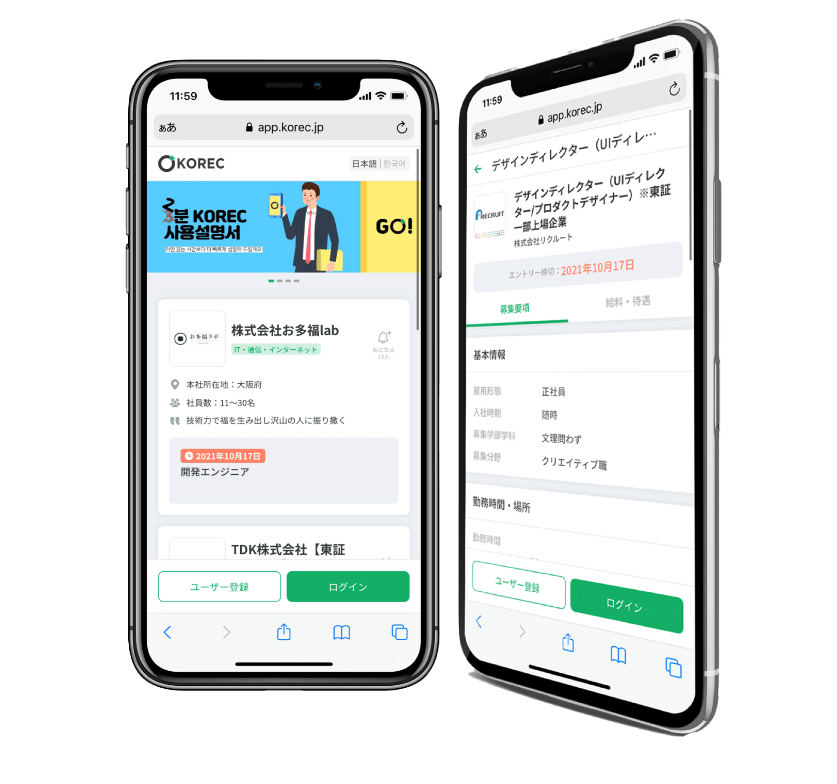 Product name

KOREC
Operating Company

Bwell Co.,Ltd.

https://bwell.jp/korec/
Matching Type

Human Resources × Customer
Industry

Human Resources
Service

"KOREC" is a recruitment support platform dedicated to matching Japanese companies with high-spec Korean talent seeking employment in Japan.
Challenges

Due to job shortages in South Korea, even students with high proficiency in skills such as languages continue to have difficulty finding a job. For Japanese companies, competition for IT personnel and global personnel is increasing, and recruiting outstanding students is a major challenge. Furthermore, in the case of overseas hires, differences in national recruitment tendencies and cultures often result in misunderstandings, hiring procedures do not advance smoothly, and mismatches that are only discovered after hiring frequently result in resignation.
Solutions

"KOREC" enables Korean college students who wish to work for Japanese companies and company recruiters to reach each other, conduct interviews, and complete the hiring process entirely online. Companies are able to manage hiring, including recruitment and applicant management, and applicant screening and briefing event functions are also planned.
Partner's Voice

The biggest reasons we chose C2C as a partner were because they are matchmaking app development professionals, they understand the hiring industry, and share similar attitudes towards hiring from South Korea. When making requests of a typical contractor, I have to put everything into words to explain it, but C2C were very easy to deal with because they completely understood what we were trying to accomplish after only explaining 10-20% of it. C2C are highly proficient in business, and don't just think about developing technology, but the whole picture, including strategy and finance. We feel like a team in the truest sense of the word. With their wealth of know-how including UX and UI, and their rapid development capability, it is reassuring and promising to be able to continue to work with C2C.
Support provided by C2C
Business incubation
・Market and competitive research
・Development of simplified business plan
・Implementation of PoC
Product development
・Product Production
・iOS/Android/Browser Development
・Integration with 3rd Party system
Digital marketing
・Web advertising strategy planning/operation
・SNS strategy planning/operation
・Media strategy planning/operation
Business growth
・Finance Support
・Hands-on support